Create a budget in three steps
Chances are if you're going somewhere you haven't been before, you're going to look up directions that show you how to get there. The same idea applies when it comes to spending and saving. Knowing where your money is going and how much you can afford to invest can help you chart a course toward a successful retirement. Creating a budget helps you make the most of your hard-earned dollars.
Step

1

Track your spending

Look at the transactions from your bank accounts, credit cards and debit cards over the last 30 days. Tracking recurring bills, such as for utilities, loans and rent, is important. Also be sure to account for all your purchases, no matter how small.
Step

2

Categorize your expenses

Classify and record your expenses into budget categories, such as groceries, utility bills, auto expenses, mortgage or rent, insurance, clothing, activities, taxes and charitable contributions.

The more categories you create, the more accurately you can track your expenses and identify the areas in which you are spending too much.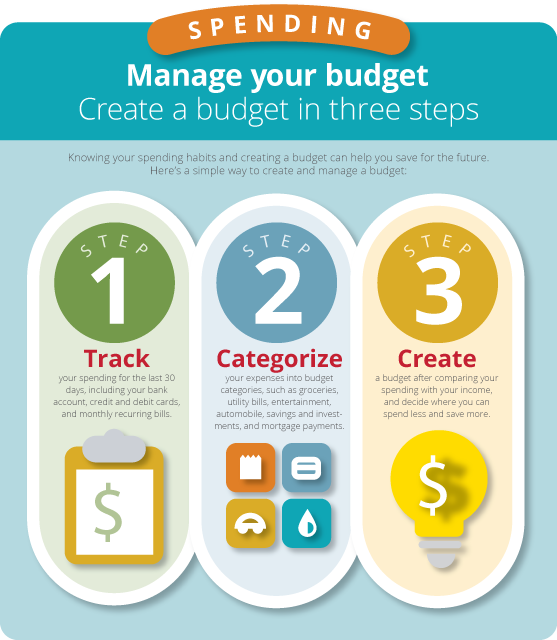 Step

3

Create your budget

Now that you have a good sense of your monthly financial needs, look over your spending again to see if there are some areas where you can add to or subtract from. For example, if you learn that you spend $300 a month eating out, see if you can cut that to $200; then add the other $100 to savings.

At the end of each month, see how your spending stacks up against your income. You can use this budget worksheet as a guide.
This material has been prepared for informational and educational purposes only. It is not intended to provide, and should not be relied upon for, investment, accounting, legal or tax advice.